Fully Automated Warehouse
We combine technologies such as robotics, visual systems, machine learning and advanced software to bring unparalleled performance to our automation solutions. Everything to deliver a competitive edge to our customers intralogistics operations around the world.
Smart automation for dispatch
The OSR Shuttle™ Sorter is part of the OSR Shuttle™ product series and is based on proven shuttle technology. The OSR Shuttle™ Sorter efficiently automates and organizes the dispatch area and handles the sorting, buffering and sequencing of shipments. As a result, the OSR Shuttle™ Sorter fits right into KNAPP's all-in-shuttle concept. The OSR Shuttle™ Sorter is ideally suited for omni-channel and multi-channel applications.
Flexible and scalable
The OSR Shuttle™ Sorter is characterized by its flexible and scalable design. The system is adjusted to individual warehouse requirements and can be easily expanded as needed. With the specialized control software KiSoft SRC, changes in the processes such as new business models can be easily made.
Ideal for high-performance applications
The OSR Shuttle™ Sorter is designed for use in order fulfilment and distribution centres, above all, in high-performance operations. The OSR Shuttle™ Sorter can process both containers and cartons. Using the OSR Shuttle™ Sorter, picking and dispatch processes are separated from each other. This allows resources to be used effectively and more flexibly, and evens out peak and slack periods.
The OSR Shuttle™ Sorter is ideally suited for the following applications:
Supplying flow racks automatically and at the right time
Buffering, sequencing and sorting goods that are ready for shipping
Cross-docking
Omni-channel and multi-channel applications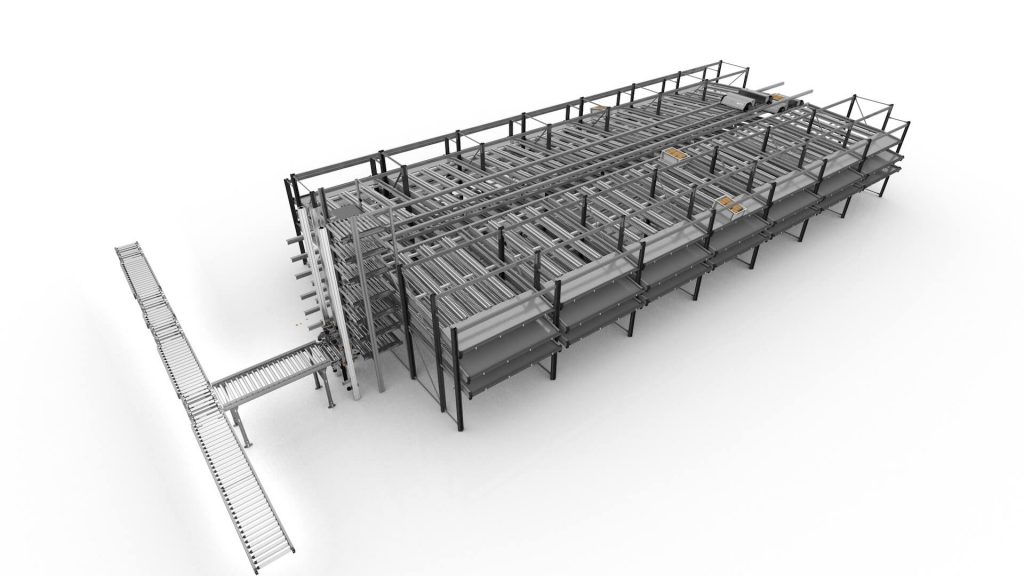 Advantages of the OSR Shuttle™ Sorter
Automated and flexible dispatch and replenishment processes
Sorting, buffering and sequencing handled by one system
Handles both containers and cartons
Flexible, scalable, reliable: modular system architecture based on proven shuttle technology
Best use of resources by decoupling picking, replenishment and shipping
Zero-defect strategy applied to the replenishment process
Minimal energy needed for maximum performance
Green light for innovation
Open Shuttles are automated guided vehicles (AGVs) that can move completely freely across available spaces without any guiding lines. The intelligent Open Shuttles are ideally suited for complex conveying jobs within a warehouse. Rising demands for speed, flexibility and quality as well as increasing article numbers require new approaches to conveying goods within the warehouse. Furthermore, transport systems must be designed to be space-effective and flexible to quickly and economically respond to changing conditions. This is a task that pushes classic conveyors to their limits. KNAPP's Open Shuttles are the ideal solution. The flexible Open Shuttles support numerous processes in the warehouse, combining flexibility, economy, safety, efficiency and scalability.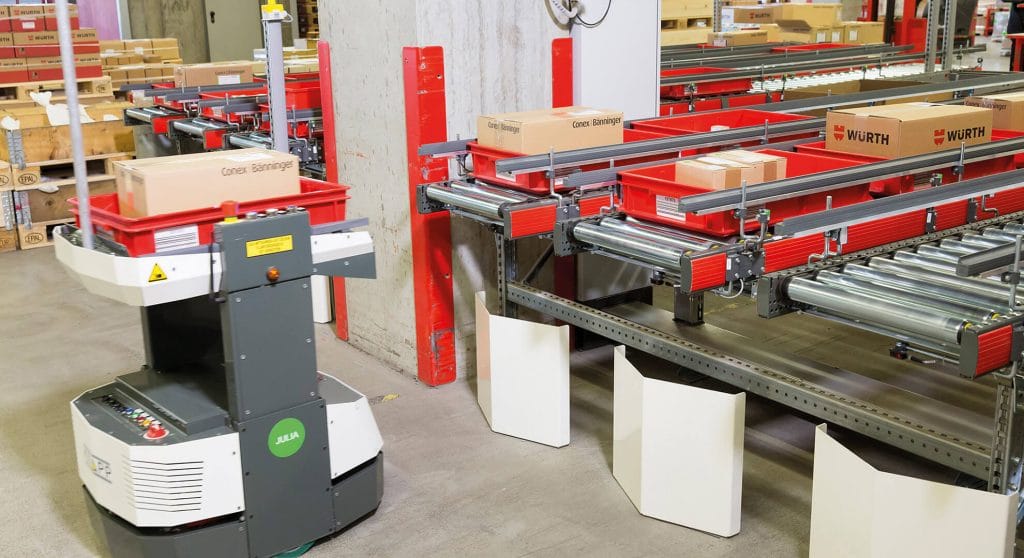 Flexible alternative to classic conveyor systems
The flexible Open Shuttles are suitable for various logistical applications in order fulfilment and distribution centres as well as in production. Open Shuttles provide an alternative to pallet or container conveyor systems and can be used in all warehouse areas. There are Open Shuttle variants for containers, trays and cartons or for pallets, depending on the logistical requirements. A special portable shelf allows the Open Shuttle to convey several load carriers at the same time.
The free-moving Open Shuttles handle the following tasks:
Conveying: linking warehouse areas; express orders, etc.
Supplying: goods-to-person work stations (e.g. zone picking)
Picking: supporting manual picking (e.g. Pick and Go picking)
Sequencing: establishing an exact sequence of load carriers on the move
Tugger train: conveyance of several load carriers following the tugger train concept
Load carriers
Containers, cartons, trays, pallets; optional: small portable rack to convey several load carriers (containers, trays or cartons)
Weight of transport object
Up to 100 kg (container, tray, carton)
Up to 1,000 kg (small portable rack)
Up to 1,300 kg (pallet)
Maximum flexibility – complete safety
The Open Shuttles move about completely independently across free surfaces using innovative navigation technology, needing no inductive loops or track rails. Using laser navigation and sophisticated sensor technology, the Open Shuttles sense their way through their environment. By naturally scanning contours in this way they know exactly where they are at all times. The Open Shuttles respond dynamically to their environment, avoid obstacles, and independently plan their path through the warehouse as well as alternative routes. The Open Shuttles provide maximum safety for people as well as maximum flexibility, so they can also be used in highly frequented warehouse areas.
The KNAPP Fleet Management System manages and monitors the Open Shuttles centrally; new routes or procedures can be specified within a few short minutes. Thanks to their individual and swarm intelligence, the Open Shuttles are always there where the work is. They can communicate with each other and distribute the tasks among themselves independently. The Open Shuttles communicate with their environment using a speech module; the warehouse becomes a high-tech workplace where man and machine work hand in hand.
Advantages of the Open Shuttles
Easy integration: integration in an existing system without any structural modifications
Fast ROI: low investment costs
Space-saving: low space requirements with minimal use of static conveyors
Flexibility: connect all warehouse areas; cover complex conveying distances
Free navigation: constantly calculate the best route
Safety: automatically avoid people and objects; safe interaction between people and machines thanks to a speech module
Scalable: allows precise adaptation to the work requirements
Expandable: easily expanded; new routes planned within minutes
Energy efficient: autonomous energy management
Low maintenance: low maintenance and servicing costs
Communication: support all Host systems
The KNAPP subsidiary KNAPP Industry Solutions is the specialist in Open Shuttle solutions.
The overhead conveyor system is designed to convey goods on hangers. The overhead conveyor system is ideally suited for use in the fashion and textile industries as well as for retail applications, in production and in the automotive sector.
The following variants of the overhead conveyor system are available:
Roll adapters with RFID technology
Sorter Pocket with RFID technology
Trolley systems
Trolley-less systems
KNAPP subsidiary Dürkopp Fördertechnik is a specialist in overhead conveyor system solutions. Find out more about Dürkopp Fördertechnik and overhead conveyor system solutions.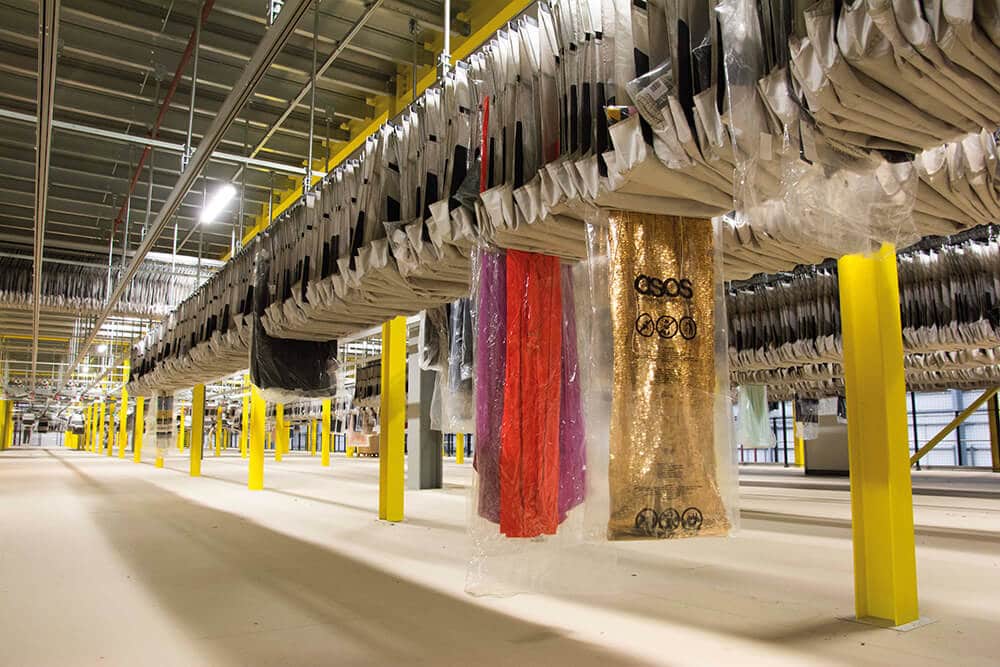 The pocket sorter system is an overhead sorting and sequencing system that can be equipped with adapters for Sorter Pockets and/or with adapters for hangers. Both hanging and flat-packed goods are conveyed, sorted and sequenced in one system. RFID technology and handling single items separates the processing of goods from the sales channel.
The distinctive feature of the pocket sorter system is its unique sorting algorithm: matrix sortation. Matrix sortation puts parts that were batch-picked in various warehouse zones into a precise sequence and brings hanging and flat-packed goods together at a single pack station.
The pocket sorter system is ideal for fashion and retail as well as e-commerce and omni-channel applications. The pocket sorter system is therefore an integral part of the innovative goods-to-person picking solutions.
The pocket sorter system is a product of the KNAPP subsidiary Dürkopp Fördertechnik. 
Order fulfilment – or picking – is one of the most critical processes in a distribution centre. Several picking systems are available, catering to different turnover rates and article characteristics. Efficient – accurate – paperless. KNAPP technologies like KiSoft RF, KiSoft Voice Picking, KiSoft Pick-to-Light and Vision Manual Picking provide support in manual picking areas. Tried and tested central belt technology with a range of different autopickers means that picking is automatic. When workers reach their limits, the innovative Pick-it-Easy Robot guarantees high performance and quality over long periods of time. KNAPP tops off its portfolio of state-of-the-art picking systems with the ergonomic goods-to-person work stations from the Pick-it-Easy series. 
Unparalleled work station concept
Pick-it-Easy is the KNAPP's innovative series of work stations based on the goods-to-person principle. The Pick-it-Easy work station series successfully combines efficiency, ergonomics, precision, cost-effectiveness and cutting-edge work station design for use in the industrial sector. Pick-it-Easy work stations reduce the number of monotonous and strenuous tasks involving lifting, stooping and stretching to reach objects. At the same time, they boost efficiency in order processing as well as the quality of deliveries and services. In developing the Pick-it-Easy series, KNAPP has applied its zero defect philosophy to the world of work stations. The ergo-dynamic KiDesign, the easyUse intuitive user guidance system and automated checks within processes guarantee maximum quality and performance. More than 600 Pick-it-Easy work stations are in operation around the world.
Advantages of Pick-it-Easy
Multifunctional goods-to-person work stations
Many different styles available to suit requirements specific to different sectors
Individually adaptable
KiDesign for maximum efficiency, quality and ergonomics
Intuitive man and machine communication with easyUse
Vision technology makes a 100 % check possible
Individually adaptable to the work process
Goods and operating elements are always within easy reach
Find out more about Pick-it-Easy here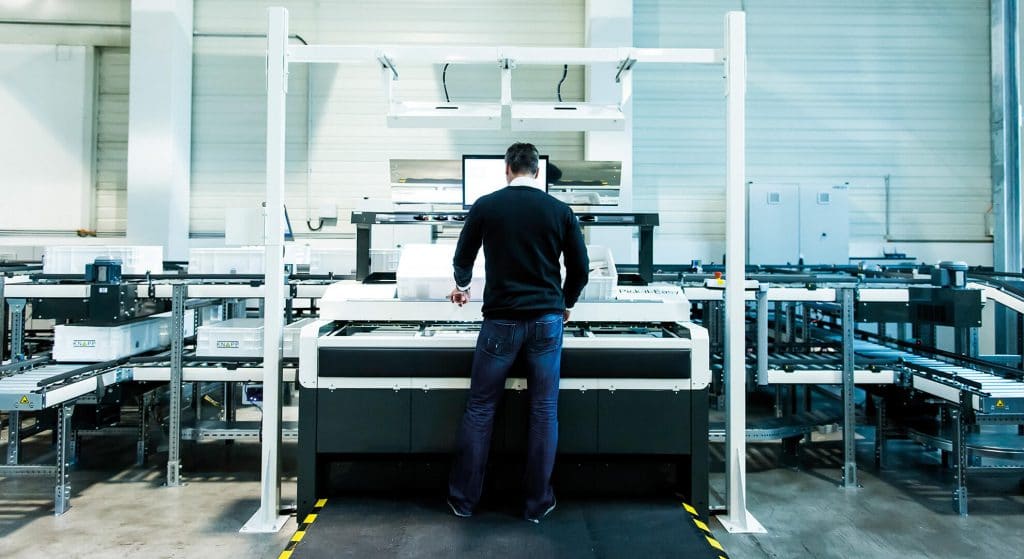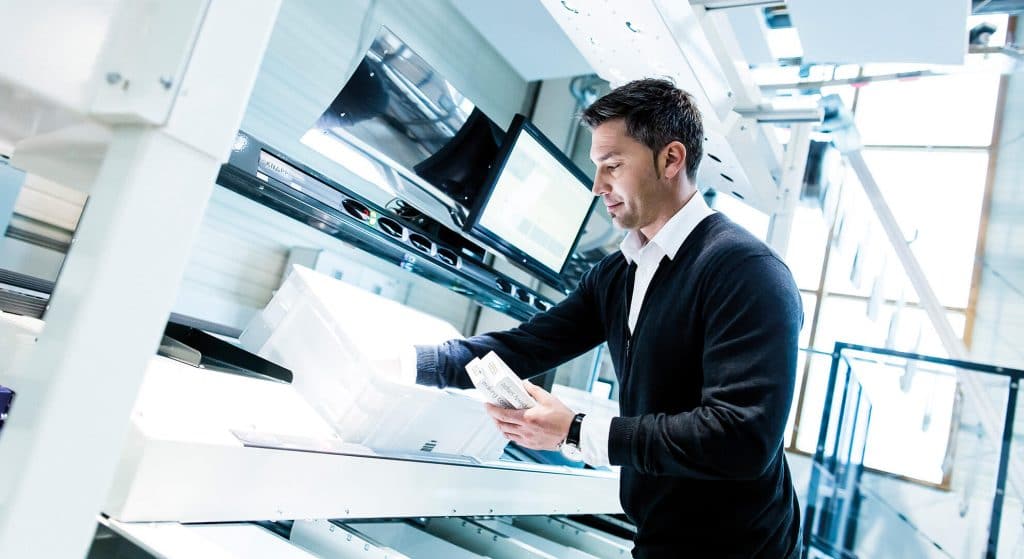 All-in-one conveyor system
Streamline is the KNAPP group's container and tray conveyor system. The conveyor system handles important tasks in an intralogistics system, serving as the main artery of the warehouse and supplying the right goods to wherever they are needed. Streamline is an all-in-one conveyor system containing both mechatronic components and control elements, and comes in roller conveyor and belt conveyor designs.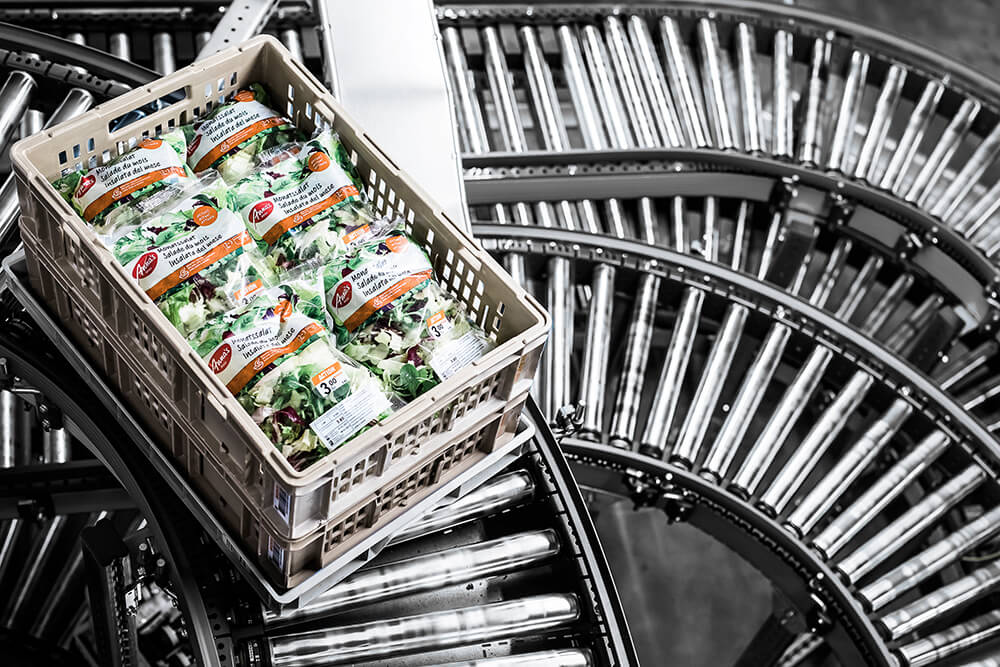 High versatility
Streamline is used for a variety of applications throughout order fulfilment and distribution centres.
| | |
| --- | --- |
| Load carriers | Containers, trays, cartons, soft packaging |
| Weight of transport object | Up to 50 kg |
| Load carrier outer dimensions | 180 x 180 mm bis 850 x 850 mm |
| Performance | Up to 3,500 load carriers per hour |
The individual Streamline components are available in different designs, varying in nominal width, roller pitch, etc.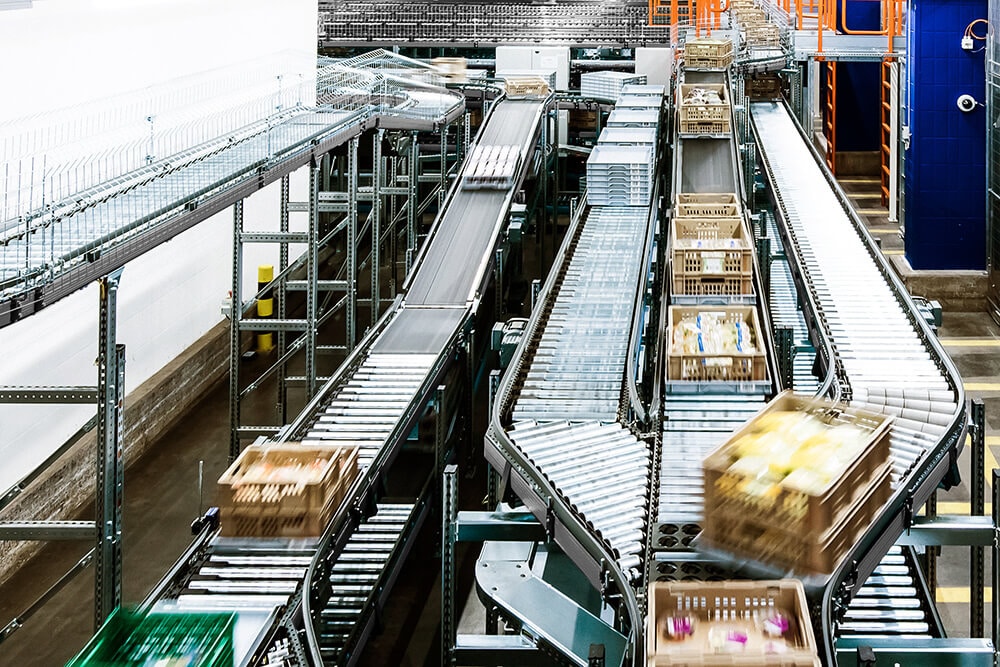 Modular design
Streamline is modular in design, using component building blocks that share common parts. There is at least one component available for each logistical function, such as a roller conveyor, belt conveyor, transfer element or elements for handling transport goods. The modular system delivers maximum scalability; therefore, Streamline can be precisely adapted to size and investment. KNAPP relies on high quality standard parts and works together with well-known suppliers to bring you Streamline.
A hybrid drive concept with a three-phase asynchronous motor drive unit and a motorized roller drive unit ensures optimal performance. A tried and tested AS-i bus system acts as the Streamline control technology, allowing components to be connected easily and economically. The AS-i bus system forms the basis of the intuitive full visualization with KiSoft SCADA. KiSoft SCADA visualizes everything up to actuator-sensor level and ensures maximum availability. KiSoft SCADA also provides additional support during maintenance. Streamline is easy to maintain, which saves time. Access from above means that all components can be replaced quickly. Rollers with clasps and modules that can be replaced as a whole also contribute to keeping maintenance simple.
Maximum performance: throughput of up to 3,500 containers, trays or cartons per hour
Hybrid drive unit: maximum performance with minimum noise using the three-phase asynchronous motor drive unit and motorized roller drive unit
Smart control system: tried and tested AS-i bus system connects components simply and economically; intuitive full visualization of everything up to the individual sensors and actuators with KiSoft SCADA
Process innovation: fast installation and startup thanks to a modular system and a high degree of pre-assembly
Quality: proven technologies ensure maximum quality
Energy efficient: maximum availability and performance with minimum energy consumption thanks to the revolutionary accumulation stop concept
Easy maintenance: rollers with clasps; replacement of entire modules and assemblies; stream-lined spare parts management thanks to parts commonality
Powerline is the KNAPP group's pallet conveyor system. It forms the basis of efficient processes and is 100 % in tune with the demands of modern logistics centres. Maximum efficiency, highest possible availability and cost-effectiveness are Powerline hallmarks. Powerline is an all-in-one conveyor system comprising mechatronic components and control elements, and is available with roller conveyors or chain conveyors. Powerline covers all logistical functions from conveying, transferring and diverting, to zero pressure accumulation.
Powerline is designed for a wide range of applications in order fulfilment and distribution centres.
| | |
| --- | --- |
| Load carriers | Pallets (EUR-pallet, Chep, plastic, etc.) |
| Weight of transport object | Up to 1,300 kg |
| Performance | Up to 240 pallets per hour |
The individual types of Powerline components are available in different nominal widths and roller pitches.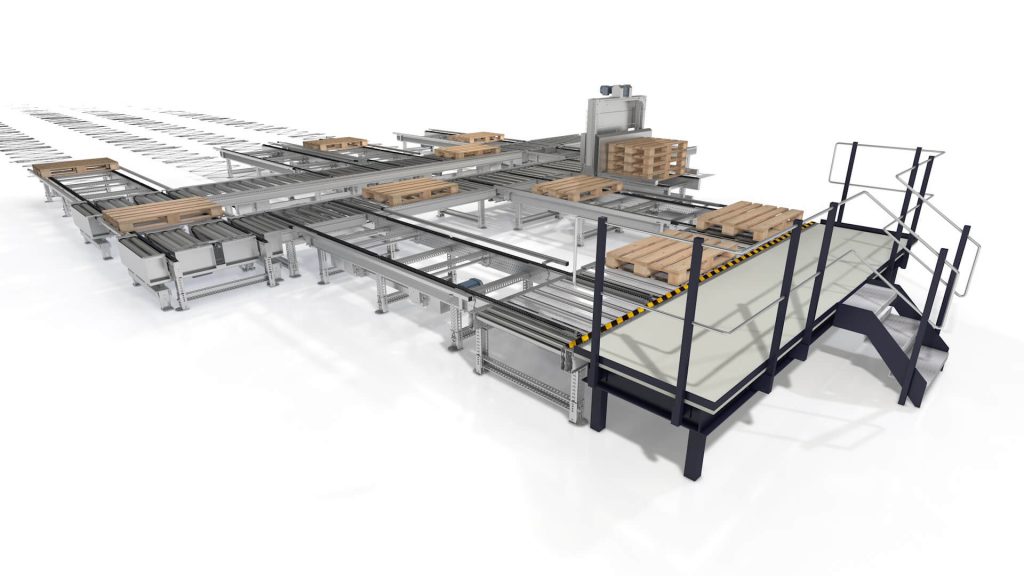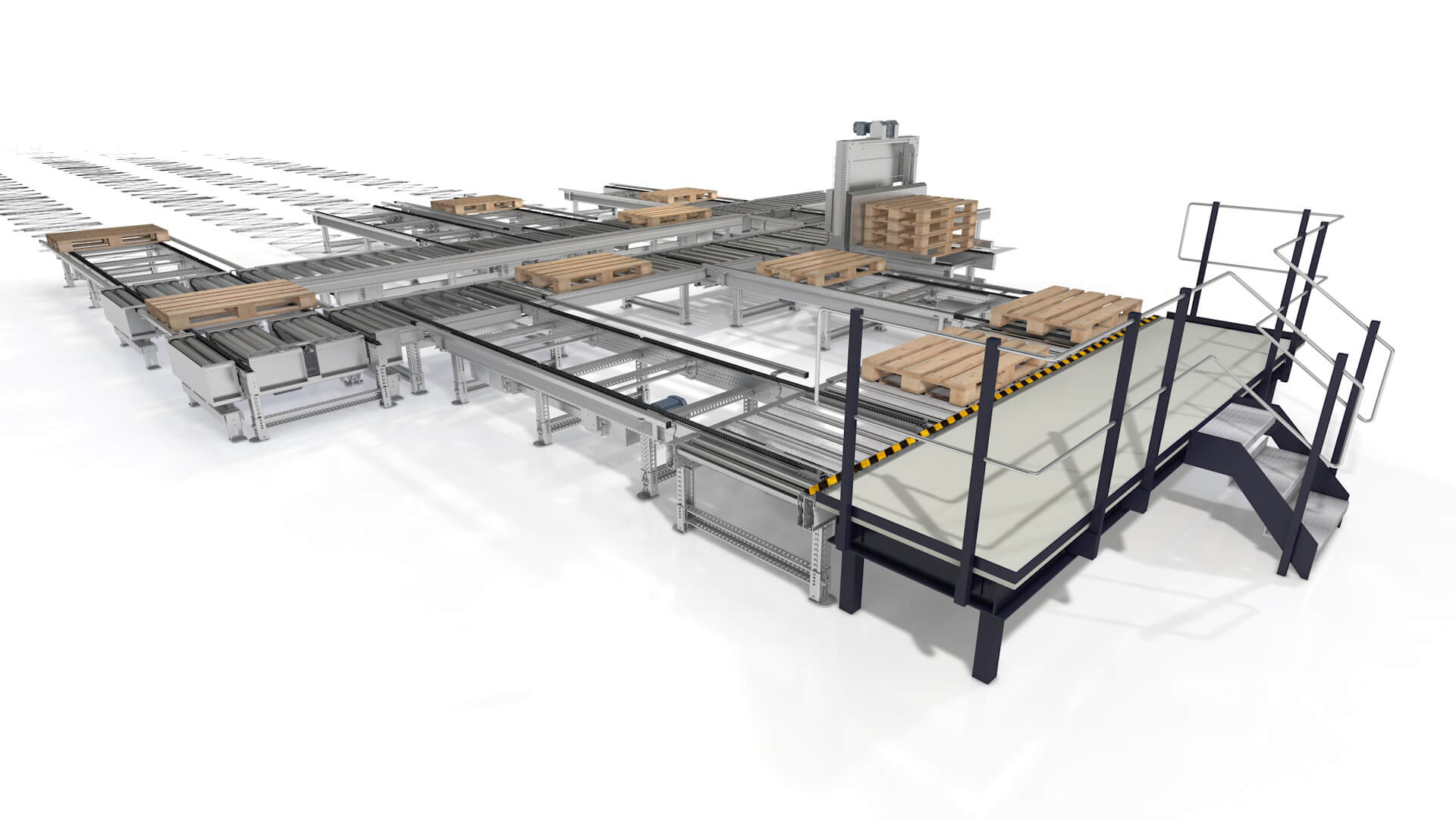 Scalable modular design
Powerline is modular in design and uses the principle of common parts, meaning it can be adapted precisely in terms of size and investment. Powerline combines efficiency and flexibility: using intelligent motors and a new pneumatic accumulation system, every location can be switched on and off individually. Combined with a smart control system, an accumulation line can be established with a single drive unit. The integrated EcoMode allows Powerline to fulfil even the strictest demands for energy efficiency.
Using modern electrical and control concepts, with KiSoft SCADA a full visualization of Powerline is possible down to the level of the sensors and actuators. KiSoft SCADA is therefore the ideal complement to Powerline and supports plannable, proactive maintenance that is appropriate to the level that the conveyor system is used. Powerline is perfectly integrated into the KNAPP conveyor system product line and can be easily combined with other systems, such as the Open Shuttles or the Streamline conveyor systems.
Advantages of Powerline
Intelligent control concept: proven AS-i bus system
Full visualization: with KiSoft SCADA up to sensor and actuator level
Scalable: precise adaptation in size and investment thanks to its modular design
Powerful and versatile: conveys various types of pallets (EUR-pallet, Chep, plastic, etc.)
Process innovation: fast installation and startup using the modular system and a maximum degree of pre-assembly
Energy efficient: maximum availability and performance with minimum energy consumption thanks to the revolutionary accumulation stop concept. The drive unit uses soft-start function; speed controlled through NFC; integrated EcoMode.
Easy maintenance: stream-lined spare parts management thanks to parts commonality; plannable maintenance with complete visualization provided by KiSoft SCADA
Cost effectiveness: direct integration of work stations without separate drive units
Scandinavian KNAPP AB is a specialist in pallet conveyor system solutions.

We can help you all the way
Manually handling load carriers and documents costs both time and resources, is subject to errors and is monotonous for personnel. These processes can be reliably and efficiently automated to optimize order handling.
KNAPP offers an extensive portfolio of handling systems for containers, trays, cartons, pallets and documents, based on the latest Streamline and Powerline conveyor concepts. KNAPP's handling systems are characterized by their high performance, profitability and efficiency.
KNAPP's palletizing and depalletizing solutions provide the flexibility and high performance currently in demand. KNAPP has various solutions available suitable for different business cases, with their palletizing and depalletizing solutions using robot technology covering all possible business models. As a result, they promote flexible sales channels such as multi-channel, cross-channel and omni-channel solutions.
KNAPP employs different robots to suit different business models, processes and required throughput, in order to provide the very best solution possible.
KNAPP's robotic solutions automate the following processes: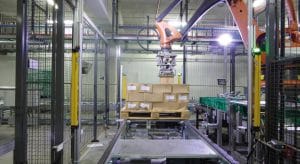 Depalletizing cartons and direct loading of storage containers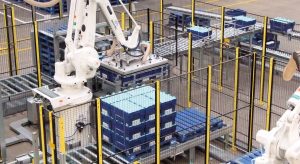 Palletizing shop containers onto industrial pallets layer by layer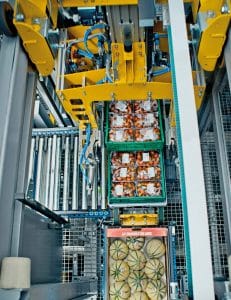 Stacking and destacking containers and carton trays (e.g. in the food retail sector)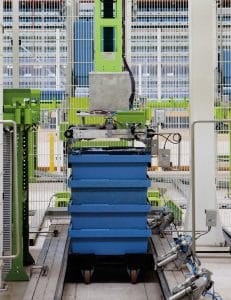 Loading standard containers onto dollies using Cartesian robots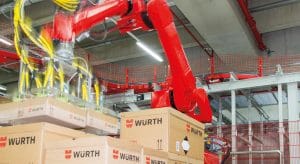 Mixed case palletizing of cartons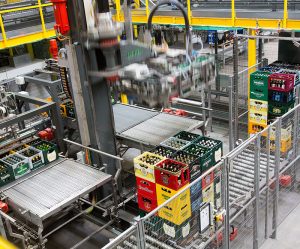 Palletizing empty handling units layer by layer using column robots
A distribution centre has to support all business processes in the best way possible. Software is what links the business processes to the warehouse technology. It's the warehouse operating company's tool for achieving consistently efficient and effective warehouse operation. Nine times out of ten, a made-to-order software system makes up a small proportion of the total investment for an automation solution; however, it makes up a much larger proportion of the success of a business. KNAPP covers all levels of software from warehouse management to individual optical sensors with its smart software solutions. As a result, it safeguards the productivity of the entire warehouse. The KiSoft and SAP® EWM product lines provide the best of both software worlds from a single provider.
Software is invisible and anonymous in the warehouse. How can processes and functions within a complex warehouse be validated in terms of customer requirements? And before any components are even produced?
As early as the sales stage, KNAPP begins using the BPMN method for modelling business processes. Industry experts work together with the customer to develop an individual solution and bring the software to life. Simulation and emulation models simulate the virtual installation of the software to increase transparency and quality in project management as well as to shorten project lead times. The warehouse comes alive before installation work has even begun. This minimizes risks and makes project implementation considerably more efficient, all in line with KNAPP's zero defect philosophy.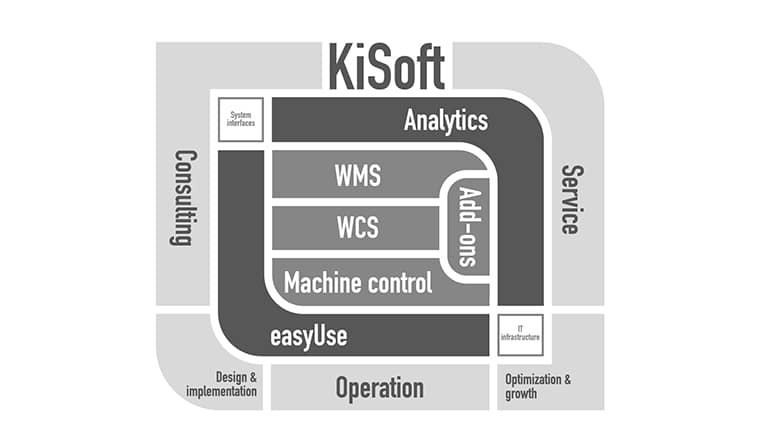 easyUse – modern man and machine communication
Ever increasing digitalization represents both an opportunity and a challenge. Tremendous amounts of data need to be processed and made available to the user at exactly the right time and in the best possible form to assist them with their work.
KNAPP meets these demands with easyUse, bring cutting-edge man and machine communication to all software levels within warehouse logistics. By consistently sticking to design principles, easyUse creates a unique user experience, presenting information in a user-friendly way on the most suitable terminal.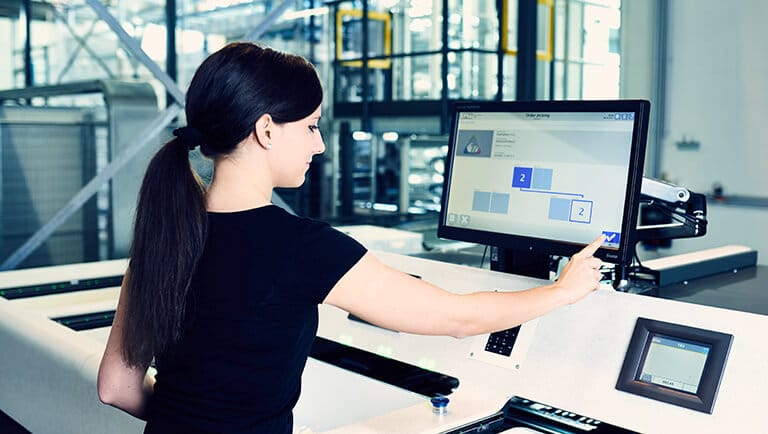 KiSoft
KiSoft is the KNAPP group's own software product line. The extensive KiSoft series has been tried and tested countless times and combines a wealth of experience with innovation. KiSoft can be used to design made-to-order software solutions for all processes and across all levels, from a single supplier.
KiSoft is the KNAPP group's own software product line. The extensive KiSoft series has been tried and tested countless times and combines a wealth of experience with innovation. KiSoft can be used to design made-to-order software solutions for all processes and across all levels, from a single supplier. This could be WMS and WCS right through to machine control systems. Such evolutionary software solutions mean that KNAPP has entered a new dimension in logistics. KNAPP continues to develop its software portfolio calling on its years of experience, know-how and expertise. KiSoft reduces costs while simultaneously achieving maximum performance and availability.
Its clearly sub-divided, modular system architecture guarantees the highest degree of flexibility and scalability. KiSoft focusses on configuration rather than development, which minimizes customer-specific developments in the project. This not only reduces costs but also the risks involved in rushed implementation. KNAPP has combined efficient implementation with simple integration in diverse Host systems, together with defined lifecycle support and maximum investment security with the all-in-one KiSoft software solution.
KiSoft offers:
Best-practice processes for various, highly-specialized sectors
High level of standardization
Scalable solutions
Easy installation and expandability
Complete control and transparency in the warehouse
Roll-out solutions for more than one site
Investment security
Below is a selection of solutions from our KiSoft portfolio:
Warehouse management with KiSoft WMS
Efficient organization and intelligent management are the most important basic requirements for successful warehouse operation. KiSoft WMS is the key to financial success. KNAPP's comprehensive Warehouse Management Software plans, monitors, controls and optimizes all processes, from goods-in to internal warehouse processes, through to goods-out. It also offers a wide range of additional processes such as quality assurance and customer returns. Main functions such as stock management, warehouse models, storage strategies and master data management serve as a basis for this, together with numerous additional functions.
KiSoft WMS makes it possible to achieve the flexibility and transparency needed for the demands of various sectors. It can be used in manual as well as semi and fully-automatic warehouses.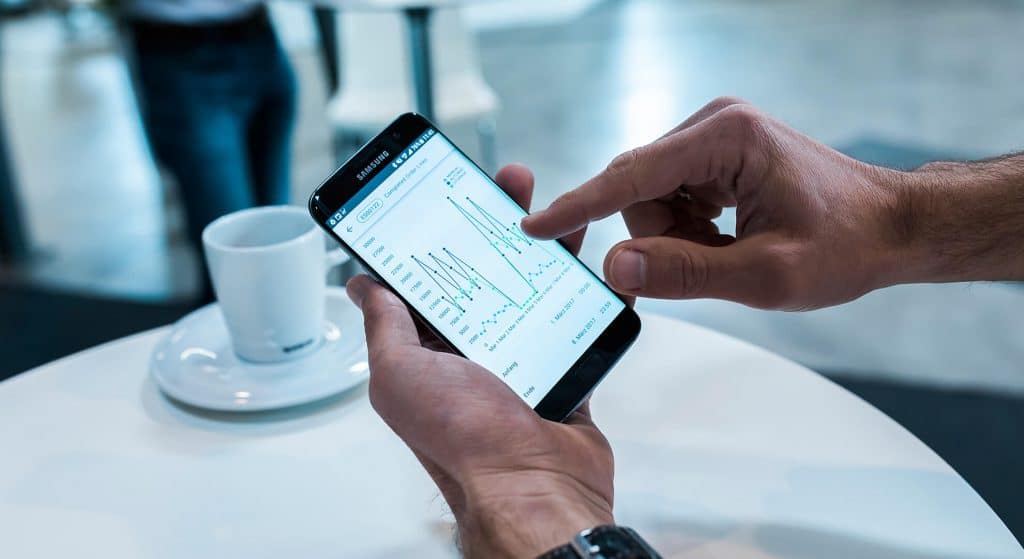 Warehouse control system KiSoft WCS
The KiSoft WCS warehouse control system controls and coordinates the flow of goods in automated areas in real time. It controls, monitors and optimizes processes and takes care of integrating subsystems.
Such subsystems include the OSR Shuttle™ storage system, the Pick-it-Easy Robot and the intelligent Open Shuttles. KiSoft WCS integrates the interface for the respective machine control system and transfers individual tasks to be processed. What's more, manual processes can be implemented in the KiSoft WCS using radiofrequency or voice technology such as head mounted displays, which can provide support for manual picking, for example.
KiSoft WCS also serves as an ideal retrofit solution that can integrate existing systems; KiSoft WCS takes over the control system of third-party systems.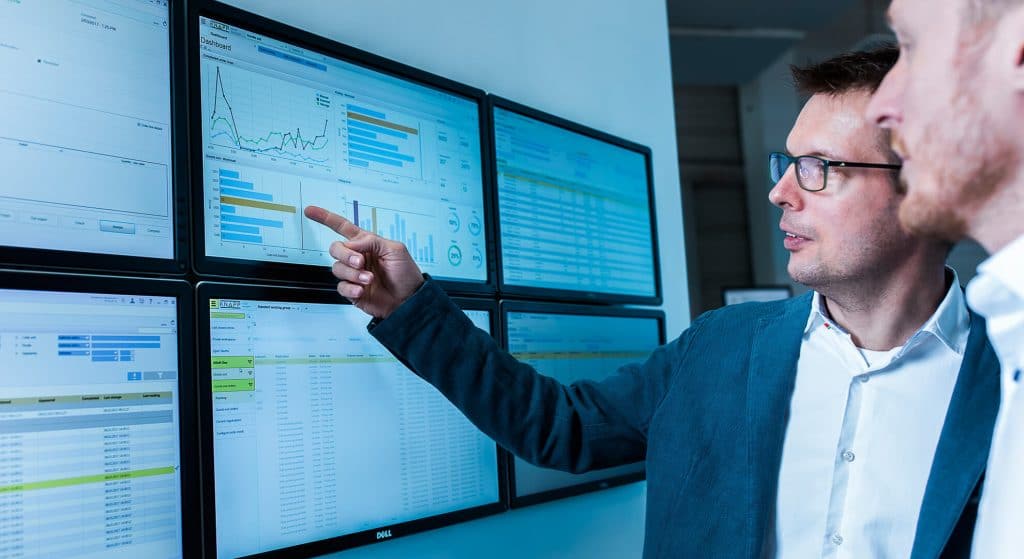 Comprehensive coverage all the way down to the machine
KNAPP offers comprehensive, uniform software solutions right through to machine level, such as solutions for the OSR Shuttle™ storage system, the Streamline and Powerline conveyor systems, the Central Belt System, the Pick-it-Easy Robot or handling systems. User-friendliness and flexibility are at the heart of these uniform software solutions. All interfaces come in easyUse design, making them clear and intuitive as well as offering smart and efficient man and machine communication. Important information is displayed for the user at exactly the right time and ergonomic touch screens ensure that machines are easy to operate.
The software solutions for machine control systems offer:
Control and monitoring of operation
Visualization of the operational states through to I/O level
Selecting the desired mode of operation and operating parameters
Manual control of individual components
Individual function testing
Support with maintenance and troubleshooting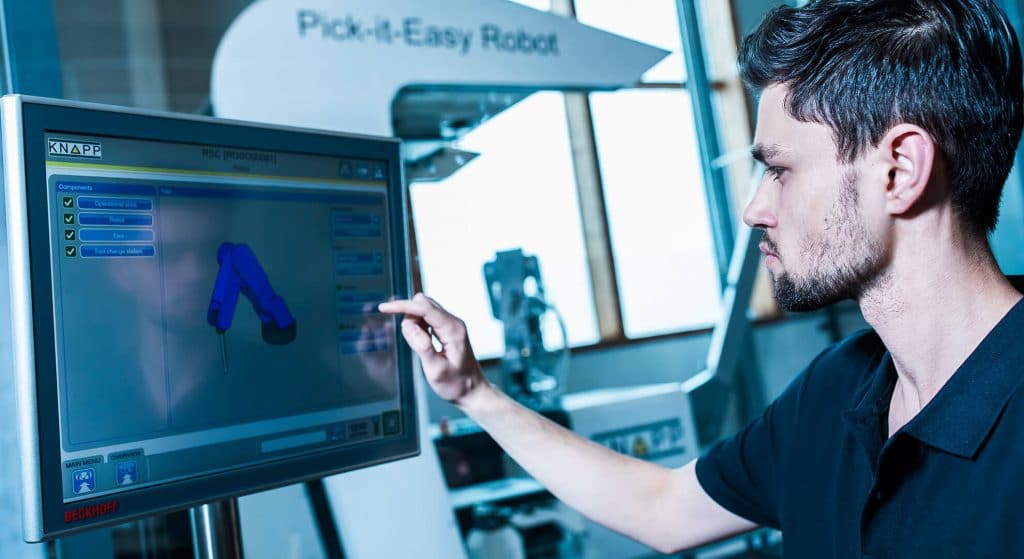 Visualization with KiSoft SCADA
Uninterrupted system availability is one of the most crucial requirements for any system. KiSoft SCADA increases system availability and therefore profitability, without any additional investment in automation technology. The clear visualization of all the components within the system means that KiSoft SCADA provides a complete overview of the technical state of the entire system including third-party components. What's more, KiSoft SCADA provides complete transparency, optimizes preventative maintenance and speedy troubleshooting, as well as helping to deploy service technicians efficiently. KiSoft SCADA can be used on various terminals such as the multi-screen KiSoft i-Point, tablets and smart phones.
It's the ideal addition to the KNAPP group's service solutions. It forms a particularly strong portfolio of solutions together with wearable services and Service 4.0™.
KiSoft SCADA offers:
A complete overview: from a 3D overview through to individual sensors
Maintenance can be planned according to use
Swift and simple incident resolution
Optimal availability and performance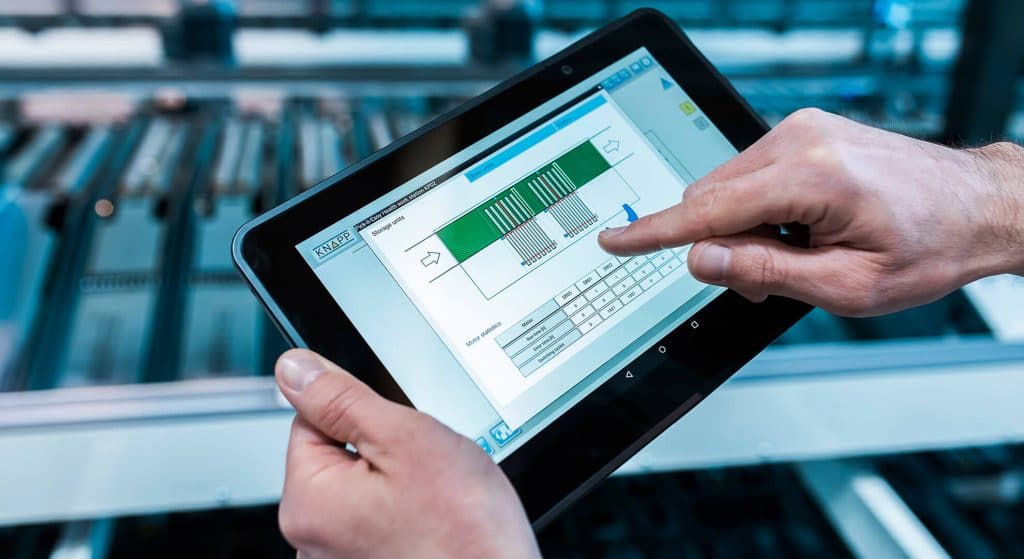 Image recognition and processing with KiSoft Vision
KiSoft Vision is a software programme belonging to the Vision product range and is the central technology in KNAPP's zero defect warehouse. In every process step, from goods-in to goods-out, quality assurance and quality-enhancing measures are put into place using the image recognition and image processing technology KiSoft Vision. As a result, KiSoft Vision lowers costs incurred by errors and boosts efficiency in each and every step of the process. It supports manual, semi-automatic and automatic processes and ensures an increase in quality, a reduction in costs, transparency and continuous traceability along the entire supply chain. Innovative technology using augmented reality makes natural, intuitive man and machine communication possible in both manual applications and in servicing. KiSoft Vision stands out thanks to its high capacity for integration. Existing systems can be easily retrofitted with the technology, guaranteeing maximum system performance with a manageable investment.
KNAPP has a product in the Vision range suitable for every single central process in the warehouse:
Vision Scantunnel: Goods-in
Vision Cube: Reading stamped printing
Vision Manual Picking: Manual picking
Pick-it-Easy Shop Vision: Goods-to-person picking
Vision Central Belt: Fully-automatic picking
Vision Desk: Order sorting
Vision Item Check: Checking single items and special check stations
Vision Blister: Checking medication dosages
Wearable Services: Service application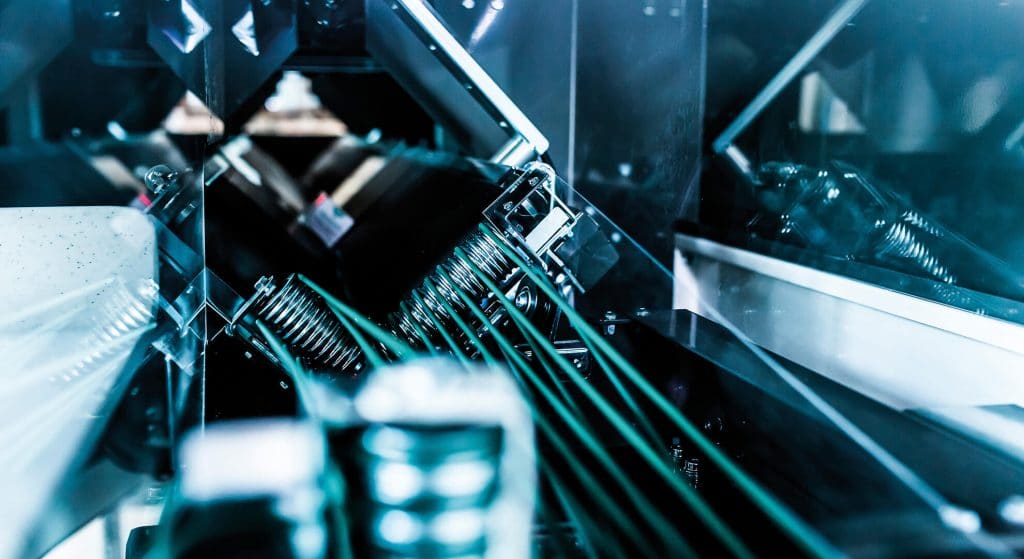 redPILOT
Our redPILOT software continually optimizes operation allowing a logistics system to operate at its optimum level at all times. To do so, it considers all the resources, including the constantly changing requirements and many influencing factors. The software evolves continually based on the numbers, data and facts which are generated with every operating hour. All experience gained is used for machine learning, forming the basis for new operations scheduling and online optimization of bottlenecks.
The software works just like a satnav in the car: after forward planning, which involves defining the destination and calculating the best route, optimizations are continually made and developed in real time. This way, redPILOT can suggest the best resource configuration to the warehouse manager. They can then create optimal schedules and continually make adjustments whenever conditions change.
Read more at redpilot.at
"
"
Flexibility and the ability to quickly adjust are key to modern logistics. A special cloud software solution helps redPILOT to operate logistics systems around the clock and at their very best – ecologically, socially and economically.