Efficient processes for pallets
Powerline is the KNAPP group's pallet conveyor system. It forms the basis of efficient processes and is 100 % in tune with the demands of modern logistics centres. Maximum efficiency, highest possible availability and cost-effectiveness are Powerline hallmarks. Powerline is an all-in-one conveyor system comprising mechatronic components and control elements, and is available with roller conveyors or chain conveyors. Powerline covers all logistical functions from conveying, transferring and diverting, to zero pressure accumulation.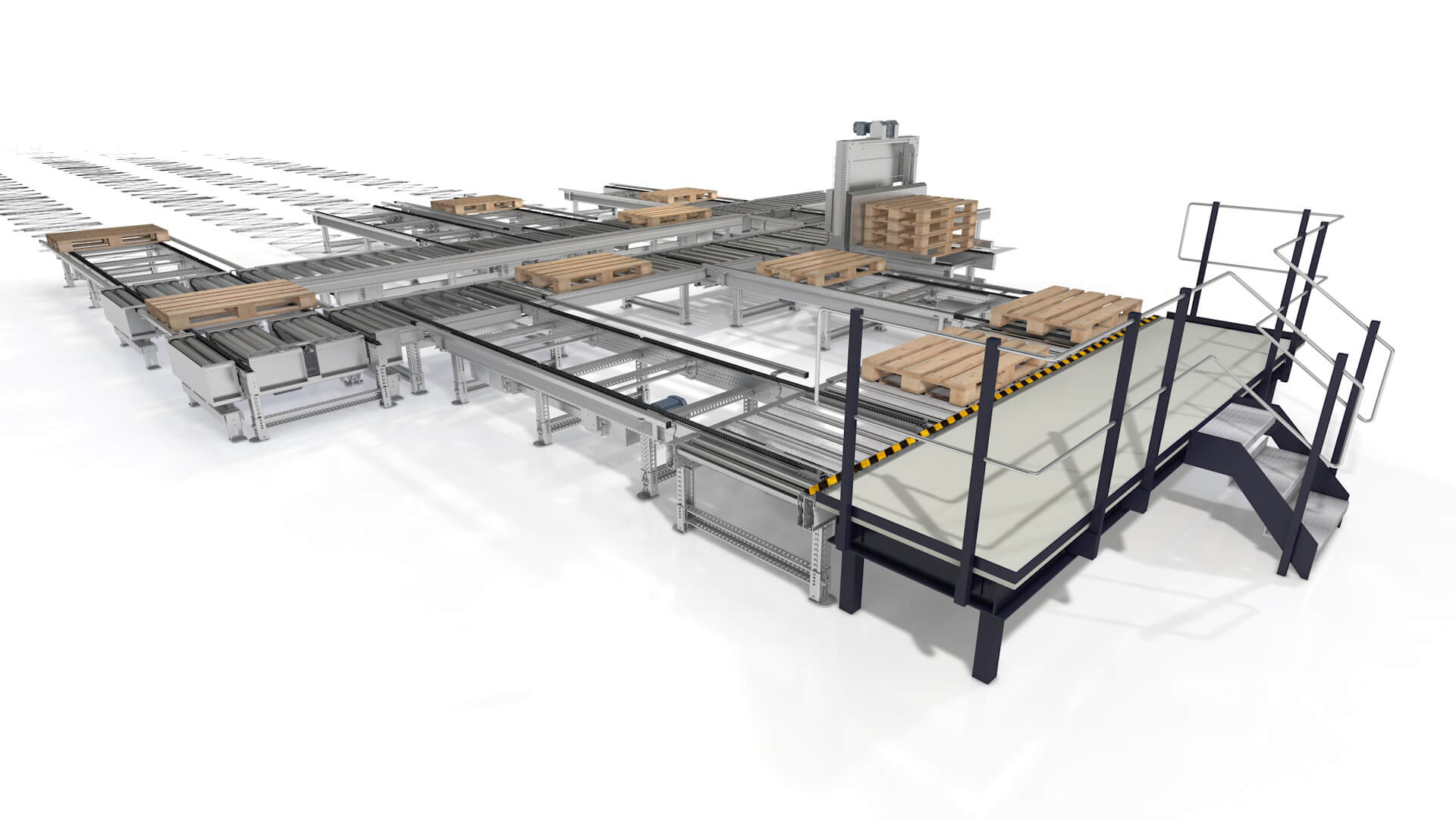 Powerful and versatile
Powerline is designed for a wide range of applications in order fulfilment and distribution centres.
The individual types of Powerline components are available in different nominal widths and roller pitches.
| | |
| --- | --- |
| Load carriers | Pallets (EUR-pallet, Chep, plastic, etc.) |
| Weight of transport object | Up to 1,300 kg |
| Performance | Up to 240 pallets per hour |
Scalable modular design
Powerline is modular in design and uses the principle of common parts, meaning it can be adapted precisely in terms of size and investment. Powerline combines efficiency and flexibility: using intelligent motors and a new pneumatic accumulation system, every location can be switched on and off individually. Combined with a smart control system, an accumulation line can be established with a single drive unit. The integrated EcoMode allows Powerline to fulfil even the strictest demands for energy efficiency.
Using modern electrical and control concepts, with KiSoft SCADA a full visualization of Powerline is possible down to the level of the sensors and actuators. KiSoft SCADA is therefore the ideal complement to Powerline and supports plannable, proactive maintenance that is appropriate to the level that the conveyor system is used. Powerline is perfectly integrated into the KNAPP conveyor system product line and can be easily combined with other systems, such as the Open Shuttles or the Streamline conveyor systems.
Advantages of Powerline
Intelligent control concept: proven AS-i bus system
Full visualization: with KiSoft SCADA up to sensor and actuator level
Scalable: precise adaptation in size and investment thanks to its modular design
Powerful and versatile: conveys various types of pallets (EUR-pallet, Chep, plastic, etc.)
Process innovation: fast installation and startup using the modular system and a maximum degree of pre-assembly
Energy efficient: maximum availability and performance with minimum energy consumption thanks to the revolutionary accumulation stop concept. The drive unit uses soft-start function; speed controlled through NFC; integrated EcoMode.
Easy maintenance: stream-lined spare parts management thanks to parts commonality; plannable maintenance with complete visualization provided by KiSoft SCADA
Cost effectiveness: direct integration of work stations without separate drive units
Scandinavian KNAPP AB is a specialist in pallet conveyor system solutions.

We can help you all the way
Manually handling load carriers and documents costs both time and resources, is subject to errors and is monotonous for personnel. These processes can be reliably and efficiently automated to optimize order handling.
KNAPP offers an extensive portfolio of handling systems for containers, trays, cartons, pallets and documents, based on the latest Streamline and Powerline conveyor concepts. KNAPP's handling systems are characterized by their high performance, profitability and efficiency.
KNAPP's palletizing and depalletizing solutions provide the flexibility and high performance currently in demand. KNAPP has various solutions available suitable for different business cases, with their palletizing and depalletizing solutions using robot technology covering all possible business models. As a result, they promote flexible sales channels such as multi-channel, cross-channel and omni-channel solutions.
KNAPP employs different robots to suit different business models, processes and required throughput, in order to provide the very best solution possible.
KNAPP's robotic solutions automate the following processes: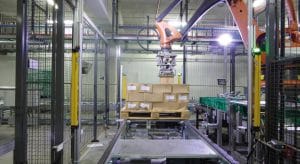 Depalletizing cartons and direct loading of storage containers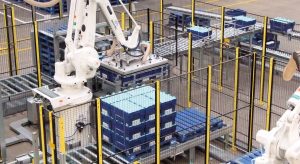 Palletizing shop containers onto industrial pallets layer by layer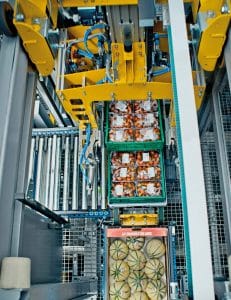 Stacking and destacking containers and carton trays (e.g. in the food retail sector)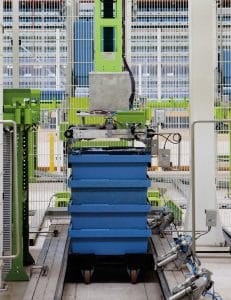 Loading standard containers onto dollies using Cartesian robots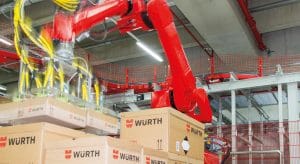 Mixed case palletizing of cartons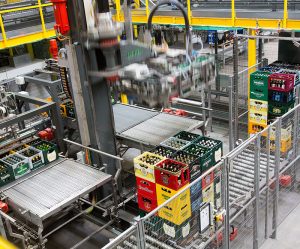 Palletizing empty handling units layer by layer using column robots
The KNAPP group has a comprehensive portfolio of automatic and semi-automatic systems for packing and securing goods for transport, guaranteeing both high quality and security.
The following selection of systems has been developed for packing and securing goods for transport:
Bagging machine
Pallet wrapper
Banding machine
Strapping machine
Shrink wrapper