All-in-one conveyor system
Streamline is the KNAPP group's container and carton conveyor system. The conveyor system handles important tasks in an intralogistics system, serving as the main artery of the warehouse and supplying the right goods to wherever they are needed. Streamline is an all-in-one conveyor system containing both mechatronic components and control elements, and comes in roller conveyor and belt conveyor designs.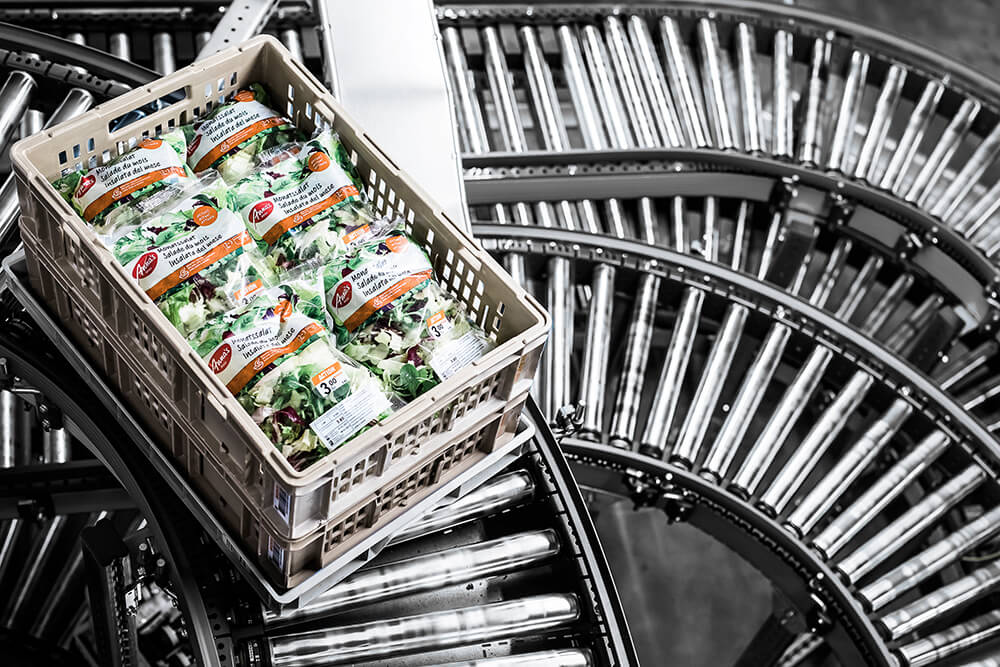 High versatility
Streamline is used for a variety of applications throughout order fulfilment and distribution centres.
| | |
| --- | --- |
| Load carriers | Containers, trays, cartons, soft packaging |
| Weight of transport object | Up to 50 kg |
| Load carrier outer dimensions | 180 x 180 mm bis 850 x 850 mm |
| Performance | Up to 3,500 load carriers per hour |
The individual Streamline components are available in different designs, varying in nominal width, roller pitch, etc.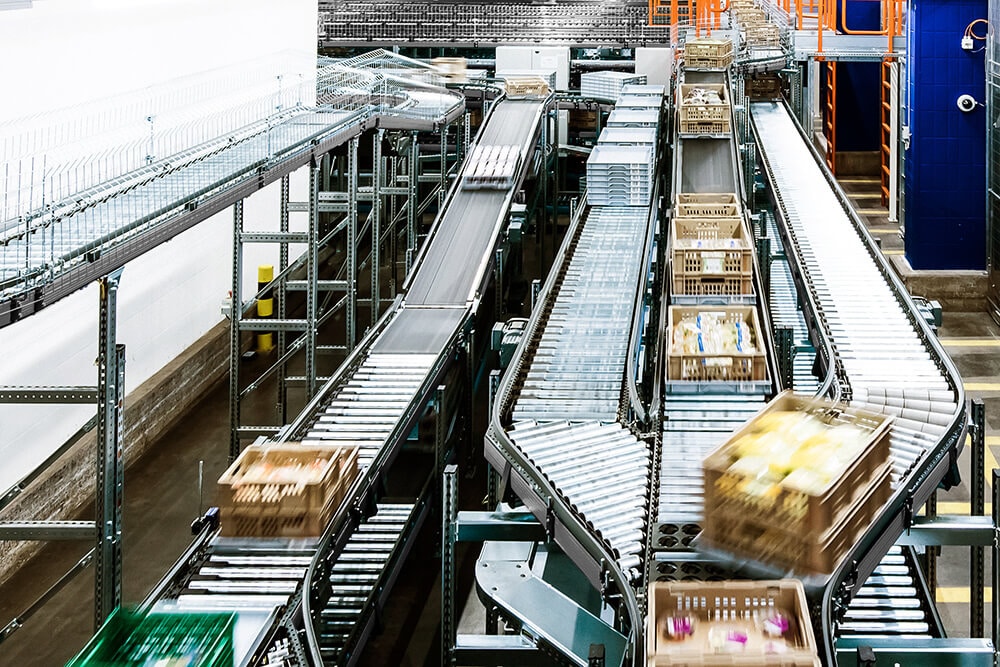 Modular design
Streamline is modular in design, using component building blocks that share common parts. There is at least one component available for each logistical function, such as a roller conveyor, belt conveyor, transfer element or elements for handling transport goods. The modular system delivers maximum scalability; therefore, Streamline can be precisely adapted to size and investment. KNAPP relies on high quality standard parts and works together with well-known suppliers to bring you Streamline.
A hybrid drive concept with a three-phase asynchronous motor drive unit and a motorized roller drive unit ensures optimal performance. A tried and tested AS-i bus system acts as the Streamline control technology, allowing components to be connected easily and economically. The AS-i bus system forms the basis of the intuitive full visualization with KiSoft SCADA. KiSoft SCADA visualizes everything up to actuator-sensor level and ensures maximum availability. KiSoft SCADA also provides additional support during maintenance. Streamline is easy to maintain, which saves time. Access from above means that all components can be replaced quickly. Rollers with clasps and modules that can be replaced as a whole also contribute to keeping maintenance simple.
Advantages of Streamline
Maximum performance: throughput of up to 3,500 containers, trays or cartons per hour
Hybrid drive unit: maximum performance with minimum noise using the three-phase asynchronous motor drive unit and motorized roller drive unit
Smart control system: tried and tested AS-i bus system connects components simply and economically; intuitive full visualization of everything up to the individual sensors and actuators with KiSoft SCADA
Process innovation: fast installation and startup thanks to a modular system and a high degree of pre-assembly
Quality: proven technologies ensure maximum quality
Energy efficient: maximum availability and performance with minimum energy consumption thanks to the revolutionary accumulation stop concept
Easy maintenance: rollers with clasps; replacement of entire modules and assemblies; stream-lined spare parts management thanks to parts commonality